At Bandolier Brewing, we aim for classic beers styles that taste good. It's as simple as that. That doesn't mean we're not trying something new. It just means our beer is something better than a passing fad.
Our beer list is ever growing, and we are regularly brewing test batches of new recipes, so there is often something new to taste and discuss with us. Stop by the brewery, we welcome the feedback!
See Something You Like?
All of our beers are available for click and collect from the brewery, with many available for mail order Australia-wide or for purchase at a number of stockists across Victoria.
Bandolier Draught
Our biggest seller – a crisp, easy drinking Australian-style lager with a dry finish. Low on carbs so you can knock back a few without feeling bloated.
4.2% ABV
Number Juan Mexi-corn Lager
Our first brew created in the back shed, long before Bandolier Brewing came to be. A classic pilsner incorporating malted corn, resulting in an easy drinking, and slightly sweet lager.
4.5% ABV
Hazy Summer Ale
Featuring a light, golden body with a touch of bitterness, this summer ale has been dry-hopped with Mandarina Bavaria and Amarillo hops for a refreshing citrus aroma. The sheer amount of hops impart a natural haze.
4.5% ABV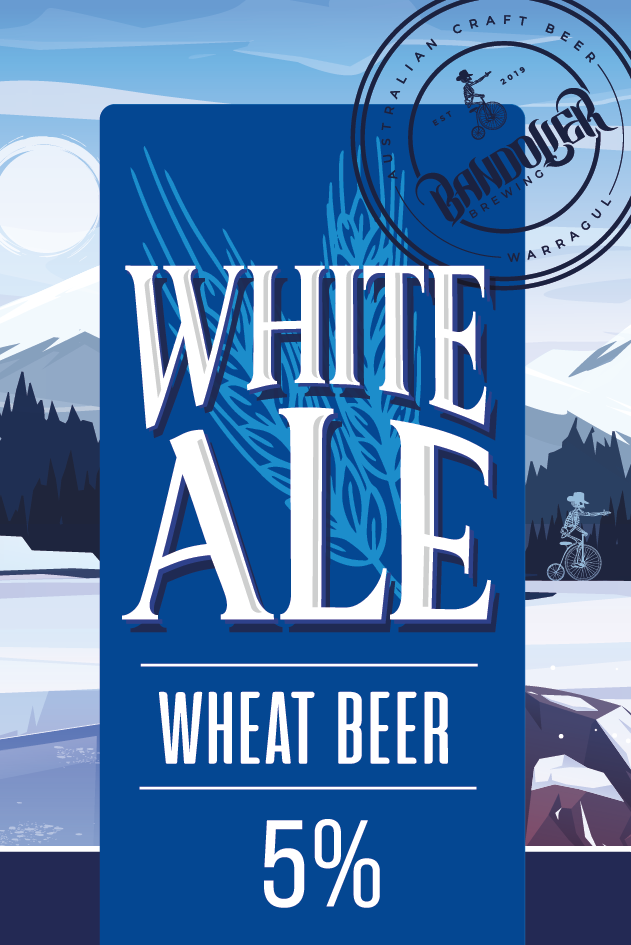 White Ale
Inspired by some of our favourite European wheat beers, this White Ale includes a blend of malted and unmalted wheats with fresh coriander seed and orange zest added. An aromatic and refreshing wheat beer with a dry finish.
5% ABV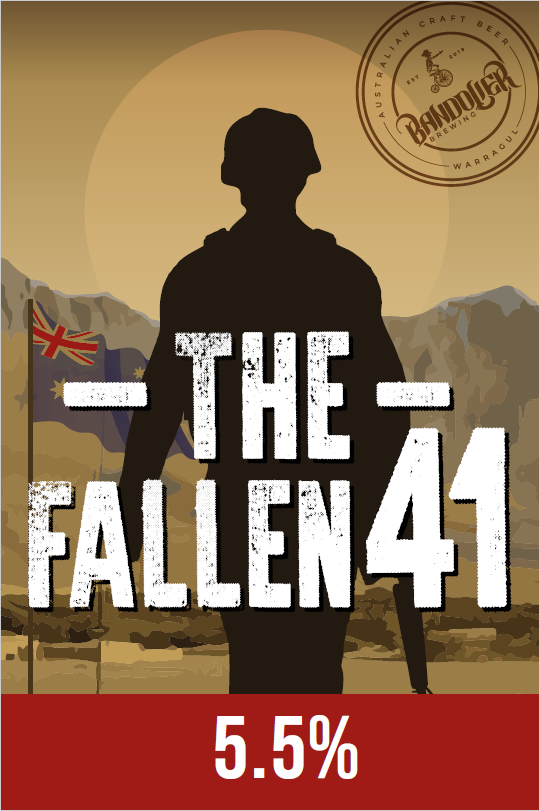 The Fallen 41 Belgian Pale Ale
Our collaboration beer with the Veteran-operated charity, "The Fallen 41".  This beer is a moderately malty, slightly fruity pale ale that works as a perfect introduction to Belgian-style beers.
5.2% ABV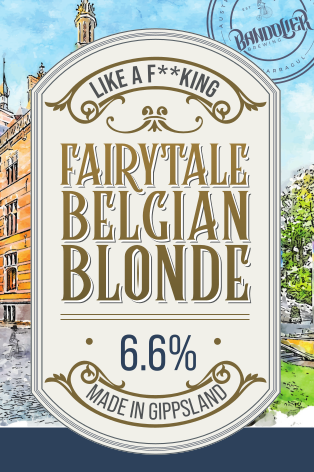 Like a F**king Fairytale Belgian Blonde
Our award-winning Belgian Blonde is made as true to style as possible. Medium bodied, slightly sweet and spicy with fruity esters. Easy drinking but complex, and at 6.6% alcohol, has a honey-like alcohol flavour.
6.6% ABV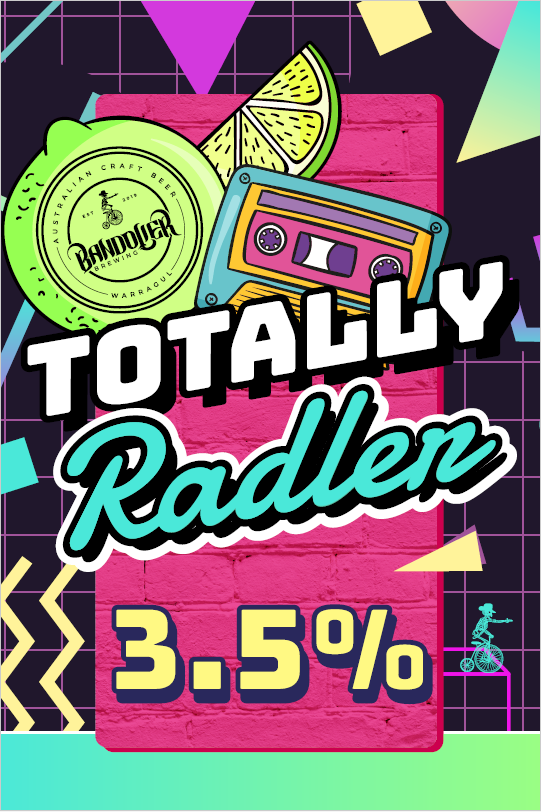 Totally Radler
This mid-strength is our take on the German version of a shandy. A slight bitterness hit in this crisp beer is balanced with the addition of key lime for a refreshing hot weather beer. Only 3.5% alcohol so you can enjoy a few and still drive.
3.5% ABV
Pretty Penny Copper Ale
Featuring a range of specialty crystal and red malts, the Pretty Penny is for those seeking a bigger malt backbone to their ale. A subtle hit of bitterness from early addition hops give way to a slightly sweet, toffee and caramel finish.
6% ABV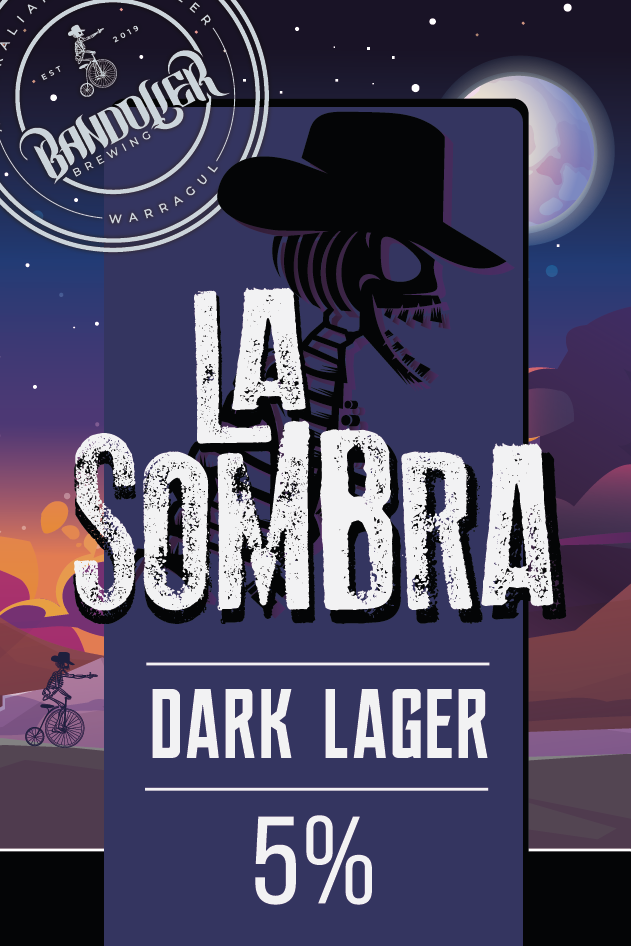 La Sombra Dark Lager
Inspired by one of our favourite Mexican dark lagers – this one is far more smashable than it looks! Medium bodied lager with a sweet but subtle chocolate hit and a very clean finish. Whether you are into light lagers or dark ales, we suggest you give it a try.
5% ABV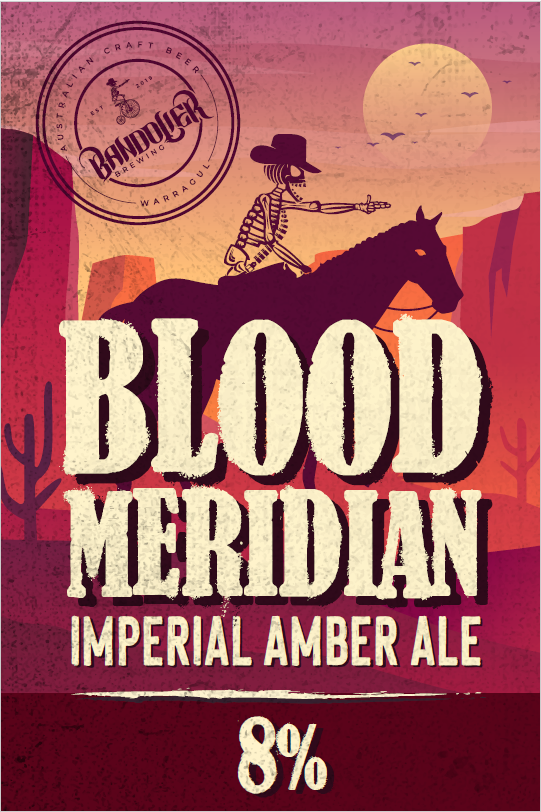 Blood Meridian – Imperial Amber Ale
This remake of our first ever beer is a bigger version of the classic American Amber Ale. Subtle citrus aromas from Centennial and Cascade hops give way a sweet hit of caramel flavour from the medium toasted malts. This beer finishes with a soft bitterness and warmth from the high alcohol content. Enjoy in moderation!
7.8% ABV
British Bob Porter
Our award-winning take on the classic British Beer. Medium bitterness from traditional English hops with a smooth chocolate finish from a range of malts. English malt, hops and yeast with water – nothing more!
5.5% ABV
Irish Cream Porter
Take the chocolatey, roasted malts from our award-winning British Bob Porter, brew with some delicious Irish creme liqueur and what do you get? Rich flavours of chocolate and coffee with the smoothness of cream and a soft bitter finish. A dark beer for non-dark beer drinkers and porter lovers alike.
5% ABV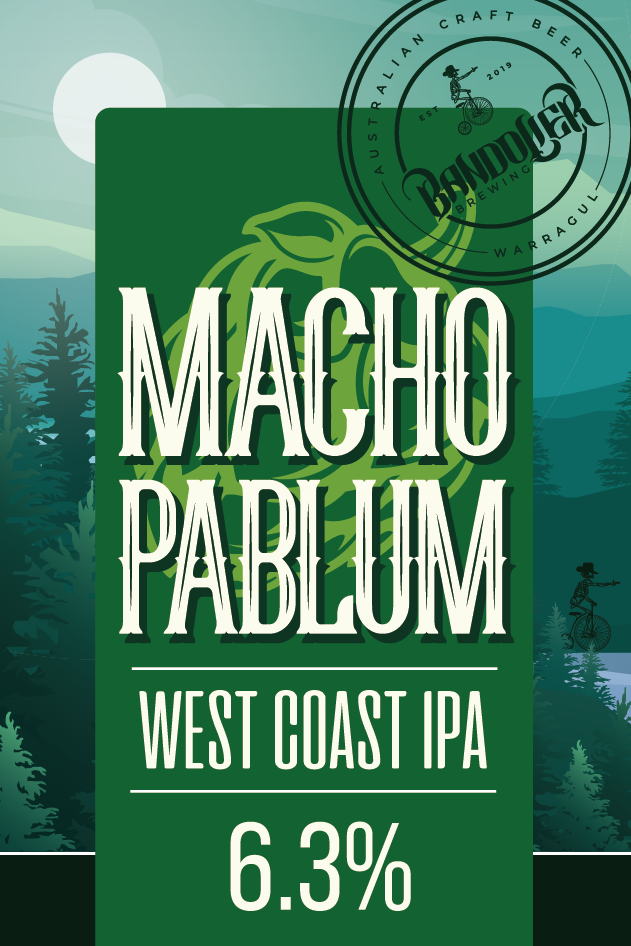 Macho Pablum West Cost IPA
Macho: (adjective) masculine in an overly assertive or aggressive way.
Pablum: (noun) bland or insipid intellectual matter, entertainment, etc.
The name of this beer is a nod to some of the macho attitudes held by fans of old school bitter West Coast IPAs and to one of the greatest bands of all time, Propagandhi, from where the expression "macho pablum" came.
6.3% ABV
Drag Me to Helles
Our collaboration brew with Los Morenos Brewing, Mexico City. This take on the Southern-German lager is slightly more bitter than the classics but with the signature full body and mild sweetness you should expect in a helles.
5.4% ABV
Alpha Seltzer – Blood Orange
The first of our seltzers fermented with a Norwegian beer yeast have a natural fruity flavour imparted from the yeast before we add blood orange for a slightly sweet and tart flavour. More subtle in flavour than mass-produced vodka based seltzers but equally as refreshing.
4% ABV
Mandarin Sour
The first of the Collab Lab series crosses the divide between metro and regional with a first ever for both Moorabbin's 2 Brothers Brewery and Warragul's Bandolier Brewery by creating a zesty mandarin sour. This traditional Kettle Sour brings a malty body bursting with the juiciest sherbet-like mandarins finishing with a clean, zesty sourness. 
4.5% ABV
Summer Berry Sour
This seasonal sour slightly more tangy and alcoholic take on the classic Berliner Weisse. We took the grain bill from our White Ale, kettled soured it and added fresh, locally grown summer berries to the fermenter. Naturally coloured and flavoured.
5% ABV